If I asked you to name someone who's been deeply wounded by sexual sin, I'll bet a familiar name or face would pop immediately to mind. Probably more than one.
You and I both know fallout from sexual sin is devastating. Marriages fracture. Families crumble. Tender, innocent hearts get scarred by wounds that sometimes never heal.
Today pornography and sex addiction are on the rise and so is the violence linked to them. The average age of initial exposure to porn is only 11 - and 93 percent of boys are exposed to pornography before they're 18. (from
www.pornaddiction.com
and
www.endsexualexploitation.org
).
"If the godly men in our families, communities, and churches don't stand up and do something, the fallout from sexual sin will spread so far that no part of this nation will remain untouched by it. The very futures of our children are at stake."
As you know, Promise #3 of a Promise Keeper is integrity: practicing spiritual, moral, ethical, and sexual purity. And every week, we hear from men, wives, and church leaders pleading for solid, biblical teaching on sex to help men keep this promise.
So on April 28, Promise Keepers will gather men from around the nation for a powerful online event addressing sexual integrity - followed by a 30-day accountability program.
Pornography is the scourge of our age - feeding abnormal behaviors and attitudes in relationships, dehumanizing women and girls and creating unnecessary guilt and shame. If for no other reason, please plan on participating so you know how to understand and help someone else.
Freedom awaits!
Join us for the Free Man Challenge — a new virtual event focused on combating lust and quitting porn.
If you've been struggling to live a life of purity and integrity, now is the time to take a stand against sexual sin. This free, one-hour event will feature all-new content from a team of trained experts assembled from among Promise Keepers friends and ministry partners.
Register today for early access information. A link to watch the program will be emailed to you.
Kick-Off: April 28, 2022
5pm Pacific | 6pm Mountain | 7pm Central | 8pm Eastern
Moose Lodge, Buena Vista Drive, Westminster, 21157
"Stand Tall Little Darlin" is this years theme.
$40 per dad. His daughters are included.
DJ Ken Fringer, Pizza, Chicken Nuggets, Desserts
Raffle Items, Door Prizes, Goodie Bag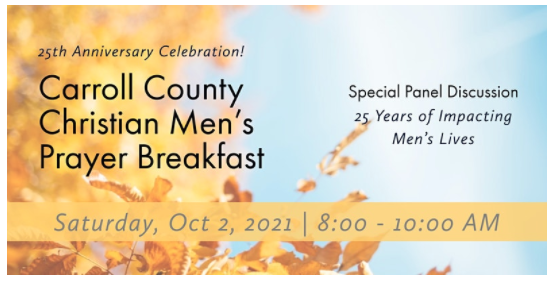 Don't miss the 25th anniversary celebration of the Carroll County Men's Prayer Breakfast -
Doors open at 7:30 AM - Come Early!
About this event
Serving God, Serving men, Serving family ~
Celebrating 25 Years of Trusting the Lord Proverbs 3:5-6
Come out and join brothers in Christ for the 25th Anniversary of the Carroll County Christian Men's Prayer Breakfast!
It is our vision to celebrate the unity and diversity in Christ by hosting men from every church and every denomination in Carroll County.
We will have good food, fellowship and worship, and a special panel discussion with men who's lives have been impacted over the years through this event. Men speaking of impact from bringing sons and grandsons, encouraging growth in their walk with Christ and new lives in Christ!
Location
Pleasant Valley Community Fire Department
2030 Pleasant Valley Road South
Westminster, MD 21158
Pastors and students are admitted at no charge
Please open...
// PK2021 RECAP VIDEO //
What an amazing event the Promise Keepers 2021 Men's Conference was -- all to GLORIFY our Lord and commit to a life of integrity along with thousands of other men.

Thousands joined us in AT&T Stadium and around the world at hundreds of church host sites in 22 countries - Australia, Brazil, Bolivia, Canada, Dominican Republic, Panama, Costa Rica, Mexico, Liberia, Guatemala, Belize and more. Over 500 churches around the world simulcast the event into churches of all sizes - some churches hosted 150 men, some hosted a group of 10 men. In the stories we received - all rejoiced in fellowship as they worshipped, were fed spiritually, and left connected to a new band of brothers.

"We saw first hand how the Holy Spirit is moving in men's lives and how Promise Keepers is fulfilling the vision Ken has presented." - Greg

Promise Keepers' vision of encouraging and transforming generations of men's lives worldwide is being accomplished thanks to your prayers and financial support. In fact, men are connecting after the event at host churches and on the Promise Keepers community discipleship app. Men are taking the challenge to serve their communities over the next 30 days through our all-new Volunteer Hub. We will be launching a Bible Study to accompany the conference next week.

The Promise Keepers App.
A digital brotherhood. Prayer groups. Service projects to activate your faith in your city. Resources and tips for all areas of life. Dig deeper into the 7 Promises and how to apply them in daily life.

"This is the very best thing - this PK app for men from all over the world to come together and share their faith, pray for one another, and give one another words of encouragement to help build up the body of Christ."

We are so thankful for the lives that were changed and the ones that will continue to be changed as a result of the PK2021 Men's Conference and Promise Keepers programs. This is only the beginning!

We are planning another virtual event for the fall and will announce our plans for 2022 at that time. Please stay tuned to our email updates for more information.

Please watch the video update we have prepared for you below. And, a special story from one of our international churches who hosted the men's conference - in Brazil!
A special Video Update for Promise Keepers Partners
A special update from a simulcast church host site in Brazil.
IMPORTANT FOLLOW UP INFORMATION

If you are prayerfully considering a gift, click here to make a donation to support the mission of Promise Keepers.

To connect with any of our Promise Keepers team members to learn more about Promise Keepers programs and how you can get involved, please send them an email.
Rick Wright This email address is being protected from spambots. You need JavaScript enabled to view it.
Bob Cornuke This email address is being protected from spambots. You need JavaScript enabled to view it.
Jennifer Arthur This email address is being protected from spambots. You need JavaScript enabled to view it.

S T A N D S T R O N G

"Be on your guard; stand firm in the faith: be courageous; act like men. Do everything in Love."
// 1 Corinthians 16:13-14 //