What every man wishes he knew about what his wife desires most.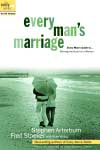 Authors Stephen Arterburn and Fred Stoeker (with Mike Yorkey) believe that every man can meet the secret desires of his wife. The problem is, most of us aren't exactly sure what that desire is and how we can go about fulfilling it faithfully.
In
Every Man's Marriage
, you can discover the common misconceptions about what it means to exercise biblical authority, and understand the role of submission in the marriage relationship. This groundbreaking book can help men grasp and apply essential but often overlooked principles for marital leadership.
Through candid reflections on their own struggles to achieve biblical unity in their own marriages, along with many years of combined experience in marital counseling, Arterburn and Stoeker apply solid, time-tested biblical wisdom to the everyday potential distortions that can lead to strife in a marriage.
The second book in the Every Man series, this is the perfect follow-up to the best-selling
Every Man's Battle
.
Every Man's Marriage
is a terrific resource for establishing mutual respect and sacrifice in your marriage based on Christ's example of loving
His
bride, the church.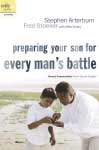 It's never been easy for a father or mother to talk to a son about sex. For Christian parents, it's always been a challenge to know exactly how to teach God's standards of purity and integrity.
But today, the stakes are higher than they've ever been. So it's vital that fathers and mothers prepare their sons to withstand the sexual onslaught of their culture through movies, television, music, and the internet.
But what should you say? And when and how should you say it?
Now there's help you can trust:
Preparing Your Son for Every Man's Battle.
The authors behind the best-selling "Every Man" series have put together all the resources and guidance you need to experience frank, thorough, and natural conversations with your son about sexual integrity. They offer an effective new communication process that ensures a deep, abiding relationship between you and your son as he moves into his teen years and beyond.
Equip your young man with the biblical information and spiritual insights he needs to stand strong, overcome temptation, and experience the blessings of godly obedience…for the rest of his life.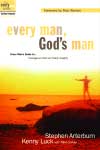 Spiritually, men are frustrated today because they feel they are repeatedly coming up short or are in other ways unfulfilled. Like football players in the "red zone," they are struggling to complete the drive toward integrity and intimacy with God.
That drive toward spiritual maturity requires both a shift of heart and a re-examination of the spiritual habits. What men lack today is, first, clear understanding of what God is really after in the relationship, and second, a clear plan connected to their goals that make sense practically and biblically. That's what makes this book special: It specifically reveals God's heart for men in the spiritual "red zone," and sets forth the choices they must make to take the relationship with God all the way.
Like other books in the "Every Man" Series,
Every Man, God's Man
boldly gets into men's heads and gives hope. It helps them persevere in their pursuit of God. Provides new insight into God's objectives for them. And brings them to the new place God is calling them–a place of completion in the faith.
The challenge every man faces...the fight every man can win

From the television to the Internet, print media to videos, men are constantly faced with the assault of sensual images. It is impossible to avoid such temptations...but, thankfully, not impossible to rise above them.
Shattering the perception that men are unable to control their thought lives and roving eyes, Every Man's Battle shares the stories of dozens who have escaped the trap of sexual immorality and presents a practical, detailed plan for any man who desires sexual purity-perfect for men who have fallen in the past, those who want to remain strong today, and all who want to overcome temptation in the future.
Includes a special section for women, designed to help them understand and support the men they love.
PRAISE
"There is no more common enemy of true manhood than the diversion or the perversion of our sexual capacities. I welcome every contribution to the arsenal of resistance."

Jack W. Hayford, Litt.D., pastor of The Church on the Way and president of The King's Seminary

"The vulnerable, honest, and insightful pages of this book reveal what every man must know."

Drs. Les and Leslie Parrott, authors of Saving Your Marriage Before It Starts

"Clear, practical principles for sexual purity...a call for courage, commitment, and self-discipline."

Dr. John C. Maxwell, founder of The INJOY Group

"Read with an open heart, Every Man's Battle may save your marriage and your witness."

Dr. Gary Rosberg, president of America's Family Coaches author of Guard Your Heart and The Five Love Needs of Men and Women