Effective Men's Ministry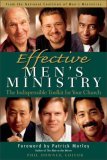 Developing and fine-tuning a thriving men's ministry takes perseverance, but it will pay huge dividends in the health of your church and its families. Effective Men's Ministry gives you the tools you need to start smart and stay strong.

Here is information you can really use--right away and in years to come. Created by the National Coalition of Men's Ministries, this comprehensive handbook takes you through the five stages of building a powerful, life-changing men's ministry in your church. Prominent pastors and men's leaders such as Pat Morley, Ed Cole, Haman Cross, Phil Downer, Steven Farrar, Jack Hayford, and Willie Richardson share their knowledge and experience. Here is your indispensable toolkit for bringing men together and helping them bond in purpose, heart, and spirit. Includes worksheets, exercises, and sidebars.