Choose Life MD - Millersville
The genesis of Choose Life of Maryland, Inc. was a vacation to Florida for House of Delegates member Robert C. Baldwin in late 2000. While there, he parked behind a car at church bearing the bright yellow Florida Choose Life tag. All through services, he was distracted with the thought, why not in Maryland?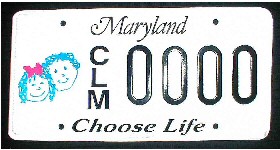 Choose Life of MD
1 Church Road
Millersville, MD 21108
410-987-0313
This email address is being protected from spambots. You need JavaScript enabled to view it.
www.chooselifemd.org
During the General Assembly meeting in 2001, Delegate Baldwin along with Delegate Janet Greenip tested the waters in passing a bill in Maryland, to establishing such a license plate. The answer was to "not beat your head against the podium.
Prior to the end of session, a staff member presented the "organizational plate" as the alternative to the Florida designed CHOOSE LIFE plate. With that, Choose Life of Maryland was born. Delegates Baldwin and Greenip were joined by Anne Marie Johnson to form the organization and meet the state requirements. There was no fanfare or great announcement but a process of qualifying as an IRC 501(c) (3) non-profit and enlisting members.
The internet was very helpful and provided the contact with Russ and Jill Amerling, Publicity Coordinators for Choose Life, Inc. from Florida. In the pursuit of approval of the tags, Delegate Baldwin met the Amerlings who were traveling through Maryland and again in Florida after all of the material was submitted to the state.
On December 26, 2002, Choose Life of Maryland, Inc., received federal recognition. In January 2003 the design for the plate was submitted and on April 18, 2003, the list of applicants for the plates was delivered to the Maryland Motor Vehicle Administration. The applicants came from throughout the state. In August, the plates began arriving in the mail and Choose Life began appearing on the roads in Maryland.
Now we are asking you to join with us and spread the word.