Becoming a Man - A Father & Son Journey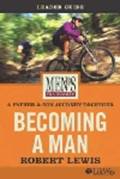 This book is designed to be read by a group of fathers together with their high school age sons. Small-group stories along with discussion enable sons to talk openly with their fathers about the issues they face while dads are encouraged to be spiritual leaders of their sons. The principles learned will lay the foundation for these young men to live as Godly men for a lifetime.
These six tested and proven sessions adapted from The Quest for Authentic Manhood by Robert Lewis will give each young man a clear, compelling vision of what it means to be a man. By participating with his son in this experience each dad is not only empowering his son with a vision for manhood but will also be strategically positioning himself to be his son's number one cheerleader as he moves up the mountain of manhood.
Session Titles:
The Four Faces of Manhood
Genesis and Manhood, Part I
Genesis and Manhood, Part II
The Two Adams of Manhood
A Biblical Definition of Manhood
A Man and His Life Journey
You can purchase the book here: http://www.lifeway.com/Product/becoming-a-man-a-father-son-journey-together-learner-guide-P001316386