Helping Up Mission - Baltimore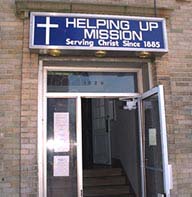 Since the beginning, providing Emergency Overnight Services (EOS) has been the primary focus of the Mission and continues to be a vital part of the Mission today. Each night, the Mission serves between 35-70 men in this capacity (depending on the weather). Men are provided with a shower, a fresh set of clothing, two warm meals and a message of hope that "real and permanent" change is possible.
During their stay, EOS guests have the opportunity to interact with men in the one-year Spiritual Recovery Program (SRP). As a result of seeing dramatic changes in the lives of men who formerly shared their circumstances, EOS guests are often compelled to enter the SRP. In fact, over 70% of the men in the SRP, entered the program as a result of being an EOS guest.

Spiritual Recovery Program:
In 1994, the leadership of Helping Up Mission felt compelled to start a long- term recovery program. This program would provide men with the tools and time necessary to address the issues that led them to the Mission, establish patterns of healthy thinking and behavior and achieve a full and lasting recovery. Today, 210 men are enrolled in the one-year Spiritual Recovery Program. The program consists of the following elements:

Morning Devotions - Each morning, the men in the program gather for a time of reflection. Men are encouraged to continually evaluate how they arrived at the Mission and where they are in their recovery process. Fellow Programmers and Graduates of the SRP share their daily struggles and successes as a means of motivating each other to stay focused on their recovery.
Work Therapy – Each programmer is assigned a job within the Mission based on his skills, experience, aptitudes and interests. Work therapy allows men the opportunity to apply what they learn in class to every day work situations (i.e. dealing with conflict, exhibiting a strong work ethic, being a team-player, etc.). In addition, working at the Mission allows men to gain new skills and obtain a job reference for their resume and future job search.
Innovative Learning Center (ILC) – The ILC is a state-of-the-art learning center, which helps men to upgrade basic education and vocational skills and develop appropriate work habits.
During the first week in the program, regardless of their level of education, new programmers are required to take the State of Maryland practice GED exam.
Those scoring below 80th percentile on the exam are required to spend 2 hours a day in the Innovative Learning Center until they are able to achieve a passing grade.
Programmers who do not possess a high school diploma are encouraged to acquire their General Education equivalency (GED) before leaving the Mission. HUM arranges and pays for men to take the state exam.
12-Step Chemical Dependency Class – Each evening, programmers participate in a 12-step meeting, which educates them on how to conquer chemical dependency and avoid relapse. Meetings include a time of sharing and a message of encouragement from a program Graduate, staff or outside speaker.
Vocational Services – Once men have completed six months in the program, they transition to the Life Preparation Phase. During this phase, men prepare to re-enter mainstream society. A two-week job readiness class is provided to teach men about resume writing, job search methods, interview skills, employer expectations, etc. Men develop their résumés and deal with any peripheral issues that may hinder them from obtaining gainful employment.
The Director of Vocational Services develops relationships with local businesses and provides job placement assistance. While looking for full-time employment, men can obtain temporary jobs through New Creations Staffing Solutions.
Click here to check out our Temporary Employment!
If you are a employer, or know an employer, that might be interested in working with Helping Up Mission to get men back to work, please email Niles Ellingson, Director of Vocational Services at: This email address is being protected from spambots. You need JavaScript enabled to view it..
Support System – During their time at Helping Up Mission, men are encouraged to attend a local church and develop strong accountability relationships with mature community leaders who can help them correct unwanted, negative social behavior and habits. Men are also encouraged to pursue one-on-one counseling with a Mission counselor or outside counselor.
Portico Work Program:
Men come to the Mission for a variety of reasons. Although 85% of the men arrive at the Mission with a drug or alcohol addiction, some are simply facing serious life crises. The Portico Work Program provides housing and life assistance to men who are employed but not chemically dependent. These men pay a weekly fee to stay at the Mission until they are able to obtain permanent housing.
Graduate Transitional Housing:
House of Freedom, the Mission's new 50-bed transitional Housing facility, provides graduates of the one-year recovery program additional time in a supportive therapeutic community while they make the transition to independent living. To qualify, men must be employed and willing to pay a weekly fee to cover room and board. These men have access to all the services of the Mission.

Internship Program:
Over the years, the Mission Staff and Board of Directors have found that the most qualified individuals to work at the Mission (in many cases) are those who have actually gone through the Spiritual Recovery Program. The Internship Program allows graduates of the one-year recovery program, who feel called to serve at the Mission, to commit to a more dedicated role. Interns receive limited benefits and can apply for an available staff position after completing one year as an intern.