Authentic Manhood - MF Year 1
This content will immediately bring biblical truth to resonate within your heart. Excellent for the unchurched too - it is a great outreach tool for men.
The Quest for Authentic Manhood is the foundational level or ground floor of manhood. This 24-session study focuses on a man's core identity and gives an overview of basic manhood issues. It will help men deal with various identity issues by looking back at past wounds and other things that may have distorted their idea of biblical masculinity. Throughout the course of the study, men will learn how to clearly define manhood and will finally be able to give a succinct and passionate answer to the questions, "What is a man?" and "What am I living to be?"
This captivating journey helps men: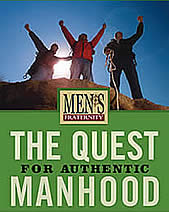 Resolve wounds from their past

Embrace a biblical definition of manhood

Develop their own personal manhood plan
Chapter Titles:
At the Starting Line: Five Manhood Promises

The Four Faces of Manhood

The First Step to Authentic Manhood: Looking Back

The Second Step to Authentic Manhood: "Unpacking"

Remembering Dad

Facing the Father Wound

The Overly-Bonded with Mother Wound

Making a Healthy Break with Mom

The All Alone Wound

Three Cheers for Mentors!

The Wounded Heart

Implications of the Heart Wound

The Good News Solution to the Heart Wound

"Saddle Up!" for the Second Half

Genesis and Manhood

Genesis and Manhood, Part 2

A Biblical Definition of Manhood

A Biblical Definition of Manhood, Part 2

A Man and His Wife

A Man and His Wife, Part 2

25 Practical Ways to be a Servant Leader

Fathers and Sons

Fathers and Daughters

A Man and His Life Journey
Visit http://mensfraternity.com/products to see some sample video clips and purchase the DVD or CD sets.