Carroll County Christian Men's Prayer Breakfast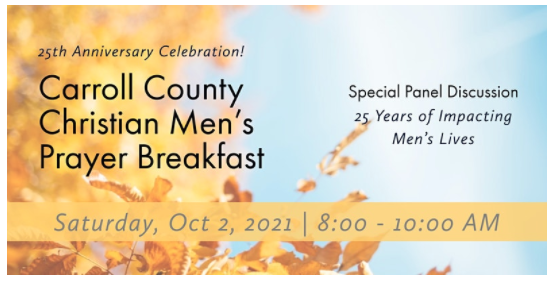 Don't miss the 25th anniversary celebration of the Carroll County Men's Prayer Breakfast -
Doors open at 7:30 AM - Come Early!
About this event
Serving God, Serving men, Serving family ~
Celebrating 25 Years of Trusting the Lord Proverbs 3:5-6
Come out and join brothers in Christ for the 25th Anniversary of the Carroll County Christian Men's Prayer Breakfast!
It is our vision to celebrate the unity and diversity in Christ by hosting men from every church and every denomination in Carroll County.
We will have good food, fellowship and worship, and a special panel discussion with men who's lives have been impacted over the years through this event. Men speaking of impact from bringing sons and grandsons, encouraging growth in their walk with Christ and new lives in Christ!
Location
Pleasant Valley Community Fire Department
2030 Pleasant Valley Road South
Westminster, MD 21158
Pastors and students are admitted at no charge